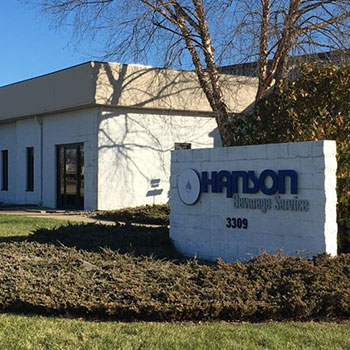 After more than 20 years, the dedicated team at Hanson Beverage Service still remains focused on delivering high-quality filtered water and coffee products to our home and office clients — combining great tasting beverages with exceptional value and customer service.
Our commitment to top-notch quality and service has made us one of the largest, most well-established bottled water companies in the Michiana area. From convenient water and coffee delivery, breakroom supplies, cooler installation or custom bottle-labeling, Hanson Beverage Service stands second to none in the Midwest.
Serving homes and businesses throughout Indiana and Michigan, we assure that all of our customers enjoy fresh, pure water, plus a host of coffee products — all conveniently delivered right to your door. As a family business, we only offer products and services that we would serve to our own family — so trust Hanson Beverage Service to deliver the absolute best to those you care about.
Our facilities house a modern 3- and 5-gallon filling line in a Class 10,000 cleanroom — a highly controlled, hygienic environment that prevents even the slightest contamination. Industry leaders rank our operation as one of the top in the nation, and they consistently acknowledge Hanson Beverage Service for going above and beyond industry standards for quality. Whether you need fresh water and coffee delivery for your home, office or water distribution business, Hanson Beverage Service remains the only option for quality, customer loyalty and affordability.
For more information about Hanson Beverage Service and our commitment to offering high quality water and coffee delivery for your home or office, please contact us here or call us directly at 800.439.6901.