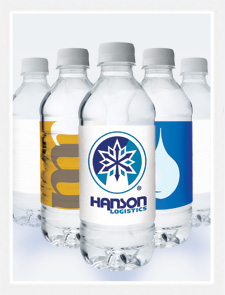 Looking for new ways to connect with clients? With your company's logo printed on a custom labeled water bottle, you captivate the attention of current or potential customers — and benefit from people carrying around walking billboards promoting your business.
The low cost and convenience of plastic water bottles ensures that they will continue to be part of many people's normal daily activity for many years. Hanson Beverage Service's custom labeled water bottles allow your company to brand itself on an item that people routinely use throughout the day.
Whether you wish to impress visitors to your office, giveaway an affordable and meaningful branded item at an event or simply promote your brand — Hanson's custom labeled water bottles represent the perfect low cost solution.
Custom labeled water bottles have many uses, including:
Corporate Marketing
Non Profit Organizations
Fundraising
Trade Shows
Special Events
Conferences
Golf Outings
Hotels/Motels
Spas
Weddings
Birthdays
Anniversaries
Schools & Universities
Hanson Beverage Service's custom labeling includes four color printing, water-resistant, high quality labels on 16.9 oz bottles of great tasting purified water. This service supports high quantity orders and water bottles are packaged in 24-bottle cases and most custom label orders require a four-week turnaround time.
For more details or a quote on custom label bottled water from Hanson Beverage Service, please contact us here or call us directly at 800.439.6901.